These are great summer stories!
BookPeople
~post by Children's Book Buyer Meghan G.
We love summer, and we love books here at BookPeople. We have a great summer reading program currently going onfor kids from kindergarten through 8th grade. But what about those tiniest book fans? Here are some our favorite picks for summer storytimes.

The Watermelon Seed by Greg Pizzoli
Watermelon is the perfect summer food. It's juicy and delicious and such a pretty color. If only it didn't have seeds. This baby crocodile simply can't get enough refreshingly pink goodness until he swallows something terrifying: A SEED! What's a baby crocodile to do but envision all the dreadfully painful consequences to come!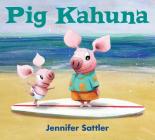 Pig Kahuna by Jennifer Sattler
Who wouldn't love accompanying these super adorable pigs as they confront one of the world's greatest wonders and scariest natural forces for the very first time? After all, anyone who's spent time at the beach…
View original post 290 more words